Tree stumps are more than an eyesore on your property. They can pose a threat to you, your family and visitors, resulting in costly injuries. It is essential to hire stump grinding if you have a tree stump left from a cut, fallen, or dead tree. Fortunately, finding Ottawa stump grinding services is an effortless process.
Benefits of Stump Grinding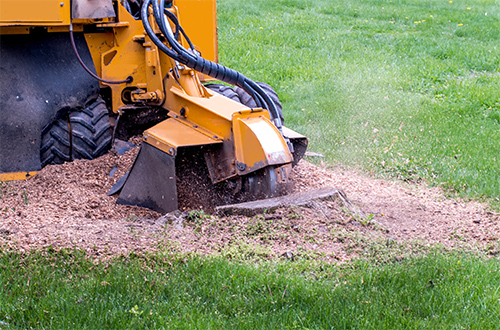 Ottawa stump grinding has many straightforward benefits. The six merits of removing tree stumps from your property are as follows:
Improve Aesthetics – Stumps are unsightly, so removing them will instantly improve the aesthetics of your property.
Regain Space – Stumps take space in your yard. Grinding them will help you regain the vital space above and below ground.
Prevent Trip Hazard – Stumps may pose a significant trip hazard in your compound, especially if you have seniors and children. Removing them is a necessary safety measure and protects you from trip injury liability.
Prevent Mowing Inconvenience – Ottawa stump grinding services will remove all remaining parts of the tree, leaving you with a flat surface where you can plant grass. It's also easier to mow the lawn.
Preventing Pest and Disease – Stumps can harbour various pests, so removing them is vital in pest control. You'll also prevent diseases from dead tree stumps to other healthy trees.
Prevent Sprouting – Stumps may sprout again if the roots aren't removed. If you already have a tree cut down, you should grind the stumps and roots to prevent further growth.
How Are Stumps Removed?
Stump grinding is a great decision, especially if you have plans for the lot. However, not all Ottawa stump grinding services you encounter are desirable. It is essential to work with reliable stump removers to ensure the best result. Stump removal businesses use various tools to carry out the task.
The best equipment is a standard stump grinder that resembles a chainsaw. It is optimized to cut deep into the soil and remove all tree leftovers above and below the ground. The saw can also handle rocks, debris, and other objects found in the soil.
Finding Stump Removal In Ottawa
Hiring a stump remover should be an easy task in sophisticated cities such as Ottawa. Many businesses can help you get rid of unwanted tree stumps. However, you need one dedicated to stump grinding and removal. The best Ottawa stump grinding companies should have the following attributes:
Reputable – Choose stump removers with a growing reputation in Ottawa and positive reviews from past clients.
Credible – Stick to licensed and insured businesses with years of experience in tree and stump removal and adequate service quality guarantee.
Local Business – You are better off working with a local Ottawa stump grinding company as you can easily reach them in case of anything.
Professional Stump Grinding Services
Are you looking to remove annoying stumps from your lawn? At Ottawa Tree Surgeons, we have the experience, equipment, and personnel required to grind down any tree stump. Whether you want to remove a single stump or many stumps, our team will make the process as effortless as possible.
We are a licensed, insured business in Ottawa and focus on stump services and consultancy. In addition to grinding the stump down, we will remove the roots and clean all debris, leaving you with a clean surface you can use for other activities. Contact Tree King Ottawa today to schedule stump grinding services or speak to a consultant.