Stump Grinding Service in Ottawa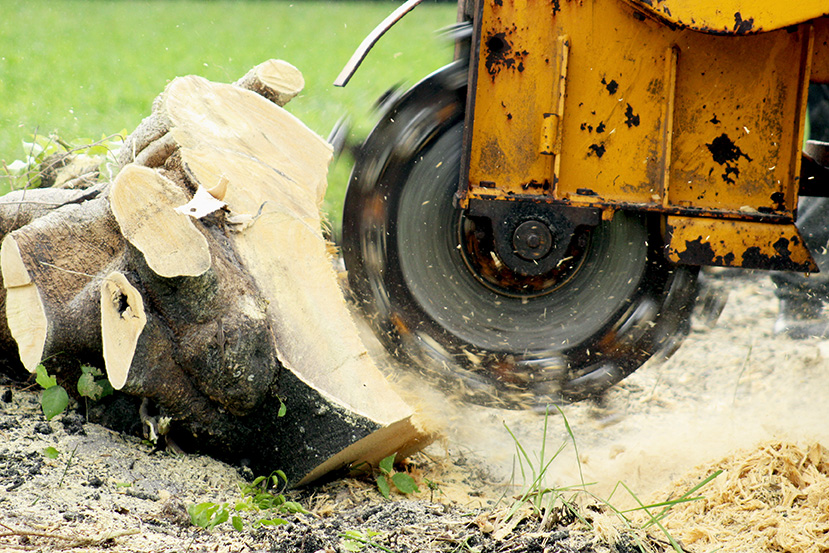 Most homeowners have had to remove a tree from their property at one time or another. However, most of them only consider cutting down the tree and forget that after cutting down the tree, you also need to remove the stump.
We at Tree King Ottawa offer the best stump grinding service in Ottawa. A stump can be removed by either grinding it or completely uprooting it.
We will grind stumps of any kind regardless of length or volume. We have the skilled manpower and the equipment to do any tree stump grinding job.
What most homeowners either forget or do not know is that a tree stump can have far reaching consequences on a piece of property and its inhabitants. Therefore, they leave tree stumps on their property for longer than is advisable.
Tree stump grinding is a unique endeavor that is different from others. The processes of tree removal and stump removal are quite different and need different equipment.
Stump grinding is our specialty at Tree Kings and we have both the professionals and tools to ensure that the job is done right in absolutely no time. We will also do any clean up work and ensure that your lawn or backyard looks as good as new.
Reasons for Stump Grinding in Ottawa
The following are some reasons why you should grind tree stumps on your property:
Pest Infestation
A tree stump offers prime breeding grounds for various pests. When you have a stump on your property, it will be common to see insects like ants, beetles, flies and termites.
These wood loving insects will definitely spread to your house which likely has wooden components. You should contact an Ottawa tree grinding service before you have a full-scale pest infestation on your hands.
Fungi
Fungi are the main cause of disease in both plants and animals. Fungi can attack a tree stump and grow in great numbers inside of it.
Fungal growth is very dangerous because of how fast it spreads and will affect other plants on your property. If you don't want your lawn, backyard or garden destroyed by a fungal infection, contact a stump grinding service in Ottawa.
Infections
A stump is the remaining part of a removed tree and is dead. It hence will start decaying and will be a host of a varied selection of pathogens which can cause infections.
The infections may affect other plants or the people living on the property. It can lead to diseases that will cause you and your family a lot of trouble.
Injuries
Having a dead tree stump on your property severely increases the chances of you having an injury on your property. It is especially so if the tree stump is in a dark area.
There have been many accidents caused by having a tree stump unnecessarily present on a piece of land. Calling a stump grinding service in Ottawa is a great idea before you are a victim of a serious injury.
Who we are
Tree King Ottawa is a tree stump removal company in Ottawa, serving the OTTAWA  and surrounding areas.
We have specialized equipment (ottawa stump grinder) to efficiently remove large and small stumps in a timely manner without destroying your lawn. We remove tree stumps by professionally grinding them into mulch, usually 10″ to 12″ below ground level, being aware of potential hazards, then back-fill the hole(s) left from grinding with the residual mulch. Easy access – machine fits through 36″ gate for backyard.
We are fully insured and can handle any size stump you may need removed.
Why Tree Kings?
Tree King Ottawa is a company renowned in Ottawa for its tree grinding services. We have been asked to grind the stumps of some of the oldest and hardest trees in the city.
You should choose our services because of our experience in the industry. We also have all the necessary tools for the job and the people who know how to use them.
Therefore, if you want the best stump grinding service in Ottawa, call Tree Kings today and we will be happy to help.