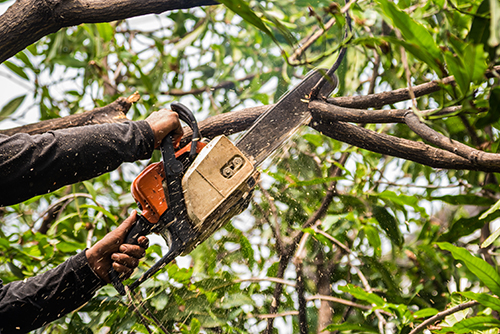 Trees are a wonderful gift from the earth's ecosystem. They supply oxygen, while taking in carbon dioxide, cleaning air, and providing a safe haven for animals. It is estimated that trees add 14% to a property's market value. However, in order for these plants to survive, they need adequate care. Taking care of trees is something arborists are experts at. Whether you need these trees replanted, trimmed, pruned, or entirely removed, trust our Ottawa tree trimming experts to get the job done!
Our Ottawa Tree Trimming Services Offerings
1. Trimming and Removal of Trees
Trimming and removing medium and large trees is often hazardous. A professional team should always handle this process. Other dangers exist besides bodily injury, such as the chance of discarded tree portions falling and causing damage to houses, automobiles, and other properties. Worse, some people may fail to notice a hornet nest or beehive in a tree and end up paying a high price. Trust us, we have all the essential equipment, training, and support mechanisms in place to guarantee that nothing goes wrong.
2. Stump and Root Removal
While a stump is used as a chopping block, stool, or even a pot foundation, it is usually advisable to remove the stump totally, so you can regain the space. Stump grinding is the least intrusive technique to get rid of stumps. We may also remove roots that have become a concern and are causing damage to other parts of the property.
3. Brush Clearance
In Ottawa, and other cities around the nation, excessive overgrowth on properties may result in notifications and penalties from the municipal department. In general, municipal and fire laws are violated by anything that is too overgrown, too near a structure, and an obstruction or danger to traffic. In addition, uncontrolled plants may provide a home for pests like rats and snakes. Fix the problem quickly and reduce the plants to a size that is safe and easy to manage.
4. Planting of Trees
Despite the relative simplicity of planting a sapling or young tree, certain tasks require fully grown trees. For unskilled handlers, planting a full-grown tree is often exceedingly challenging, since many things can go wrong. In addition, improperly transporting and installing a tree might result in other issues, such as stunted growth or death. Our staff is equipped with the knowledge and tools necessary for appropriate tree installation. Each tree is carried, handled, and placed so it can thrive. Whenever necessary, we also brace and cable trees.
5. Annual Tree Maintenance | Ottawa Tree Trimming
If you own land or a house, you need to take care of your trees so that storms, falling branches, and power lines don't hurt anyone. To prevent trees from outgrowing their space and endangering humans, call a professional Ottawa tree trimming service for annual tree maintenance. With years of experience providing tree services in Ottawa, we have the knowledge and skills necessary for your yearly tree maintenance.
Get Expert Tree Trimming Services
We provide dependable and efficient tree care and maintenance services to Ottawa residents and businesses. Customers are our primary concern. We always work diligently to guarantee your satisfaction with services rendered. We take pride in all of our work, regardless of scale, and ensure that each project is carried out safely and accurately. We are licensed, insured, and dedicated to giving our clients the best Ottawa tree trimming and care possible.